The VCUarts Cinematheque regularly programs and presents 35mm films at the VCUarts Grace Street Theatre.
934 W. Grace St. Richmond, VA 23284-3048
Phone: (804) 828-2020
All screenings are 35mm print projections, free of charge, Tuesday nights at 7 PM.
Director: Rob Tregenza, PhD.
Assistant Programmer for World Cinema: Professor Kirk Kjeldsen.
We have a brand new, state-of-the-art 35mm projector with a full set of new lenses that can project all the major aspect ratios from 1:33, 1:66, 1:85 and Scope.  We also have an HD 1080p projector,  a new theatrical screen, and a Dolby Surround Digital Audio System.The VCUarts Cinematheque has also worked with the VCU French Film Festival, the James River Film Festival, and the Virginia Production Alliance in programing and presenting world and experimental cinema.
The VCUarts Cinematheque also presents Cine-Club screenings every Wednesday evening at 7pm in the Cinema Studio in the Pollak Building.

For more information, please call the office at (804.828.7919).
____________________________________________________
SPRING 2016 FILMS
2/9/16
Boyz N the Hood
(John Singleton, 1991). 112 min. Rated R.
A film following the lives of three young men growing up in a poorer area of LA, exploring race, relationships, violence and future prospects.
Won the 1992 Political Film Society Award for Peace, the 1991 New York Film Critics Circle Awards for Best New Director; nominated for the 1992 Academy Awards for Best Director and Best Writing, Screenplay Written Directly for the Screen.
2/16/16
King of Devil's Island
(Marius Holst, 2010). 116 min. Not rated.
In early 20th century Norway, a group of delinquent boys is forced to live under inhumane conditions, until they all decide to rise up against their abusers. Based on a true story.
Won the 2011 Amanda Awards for Best Film, Best Supporting Actor, and Best Score
3/1/16
My Winnipeg
(Guy Maddin, 2007). 80 min. Not rated.
Guy Maddin combines documentary and fiction to portray his hometown of Winnipeg, Manitoba, a place where "everyone sleepwalks through life."
Won 2009 Chlotrudis Awards for Best Director; 2009 Toronto International Film Festival Best Canadian Feature Film
3/15/16
Counting
(Jem Cohen, 2015) 111 min.
Fifteen chapters, shot across the world, compose a film exposing the beauty of time, light, and life in the city.
3/22/16
Troubled Water
(Erik Poppe, 2008). 120 min.
Jan, recently released from prison after serving time for the murder of a child, has always maintained his innocence and is ready to put the past behind him. A gifted organist, he takes a job at an Oslo church under his middle name, Thomas. His talent and gentle manner quickly earn him the respect of his superiors, as well as the love of the pastor, Anna. Thomas even overcomes his initial panic to return the affection of Anna's young son, Jens. But his past catches up with him when Agnes, a local teacher, comes to the church on a school visit and recognizes the organist as Jan, the young man who was convicted for the murder of her son.
Three-day Event: 3/28/16, 3/29/16, and 3/30/16
Out 1
(Jacques Rivette, Suzanne Schiffman, 1971) 729 min.
Paris, April 13th 1970. Two theater groups each rehearse avant-garde adaptations of plays by Aeschylus. A young deaf-mute begs for change in cafés while playing the harmonica. A young woman seduces men in order to rob them. As a conspiracy develops, the protagonists' stories start to intertwine
4/5/16
The Man from London
(Béla Tarr, Ágnes Hranitzky, 2007) 139 min.
A switchman at a seaside railway witnesses a murder and finds something valuable at the scene of the crime.
Nominated for the 2007 Cannes Film Festival Palme d'Or
4/12/16
Yeelen
(Souleymane Cissé, 1987) 105 min.
A young man with magical powers journeys to his uncle to request help in fighting his sorcerer father.
Won the 1987 Bergamo Film Meeting Golden Rosa Camuna, the 1987 British Film Institute Awards Sutherland Trophy, the 1987 Cannes Film Festival Jury Prize
4/26/16
Gomorrah
(Matteo Garrone, 2008) 137 min.
An inside look at Italy's modern crime families.
Won the 2008 Cannes Film Festival Grand Prize of the Jury, the 2008 Chicago International Film Festival Silver Hugo
____________________________________________________
FALL 2015 FILMS
08/25/15
THE RETURN
105 min. 2003 dir. Andrey Zvyagintsev (Russia)
In the Russian wilderness, two brothers face a range of new, conflicting emotions when their father – a man they know only through a single photograph – resurfaces.

9/1/15
SUMMER HOURS
103 min. 2008 dir. Olivier Assayas (France)
Three children cope with the death of their mother through the objects she bequeathed to them.  The film explores the difference between commemorating the past and capitalizing from a family inheritance.

9/8/15
DECASIA
70 min.  2002 dir. Bill Morrison (UK)
Made out of decaying archival footage, Decasia is an ephemeral meditation on life, death, and the cyclical nature of decay.

9/15/15
EVERLASTING MOMENTS
131 min. 2008 dir. Jan Troell (Sweden)
A working class woman with an abusive husband wins a camera in a lottery.  The camera transforms her life as her children grow and her photographic skills mature.

10/6/15
THE ROBBER
101 min. 2010 dir. Benjamin Heisenberg (Germany)
Many professional runners have day jobs.  Johann Rettenberger, for example, robs banks.  The film is a thriller, following Johann from meetings with his parole officer, to heists, to racing for his life.  The story is based on the record-setting long distance runner and bank robber Johann Kastenberger

10/13/15
SALVADOR ALLENDE
100 min. 2004 dir. Patricio Guzmán (USA)
A film about the life of revolutionary and Chilean president Salvador Allende to his death on September 11, 1973, and the countermeasures U.S. President Nixon and the CIA took against him.

10/20/15
HUNGER
96 min. 2008 dir. Steve McQueen
Irish republican Bobby Sands leads the inmates of a Northern Irish prison in a hunger strike.
10/27/15
DJANGO UNCHAINED
165 min. 2012 dir. Quentin Tarantino
With the help of a German bounty hunter, a freed slave sets out to rescue his wife from a brutal Mississippi plantation owner.
*The VCU Humanities Center has invited four African-American Studies scholars to publicly discuss Quentin Tarantino's controversial film Django Unchained on Tuesday, Oct. 27, 2015. The Humanities Center will pay for the guests to travel to campus and their hotel.
Prof. Oliver Speck, Associate Professor of Film Studies in World Studies is organizing the project.

11/10/15
STILL, THE CHILDREN ARE HERE
85 min. 2004 dir. Dinaz Stafford
A portrait of an indigenous society that has maintained its culture in isolation from a rapidly urbanizing and westernizing India.

11/24/15
NORTH BY NORTHWEST
136 min. 1959 dir. Alfred Hitchcock
A hapless New York advertising executive is mistaken for a government agent by a group of foreign spies, and is pursued across the country while he looks for a way to survive.

____________________________________________________
SPRING 2015 FILMS
1/27/15
UNCLE BOONMEE WHO CAN RECALL HIS PAST LIVES
by Apichatpong Weerasethakul (Thailand 2010)
2/3/15
OF TIME AND THE CITY
by Terence Davies (UK 2008)

2/24/15
MEAN STREETS
by Martin Scorsese (France 1953)

3/3/15
SEMINAR: MOTION PICTURE PRODUCTION IN VIRGINIA
Details TBA

3/17/15
WILD GRASS
by Alain Resnais (France 2009)

3/24/15
TOUCH THE SOUND: A SOUND JOURNEY WITH EVELYN GLENNIE
by Thomas Riedelsheimer (Germany, UK 2004)

3/31/15
HOUSE OF FLYING DAGGERS
by Zhang Yimou (China, Hong Kong 2004)

4/7/15
LATCHO DROM
by Tony Gatlif (France 1993)

4/21/15
THE LIVES OF OTHERS
by Florian Henckel von Donnersmarck

5/5/15
ONLY LOVERS LEFT ALIVE
by Jim Jarmusch (UK, Germany 2013)

____________________________________________________
FALL 2014 FILMS
8/26/14
IN THE MOOD FOR LOVE
by Wong Kar Wai

9/2/14
THE CUCKOO
by Aleksandr Rogoshkin

9/16/14
THE BEACHES OF AGNES
by Agnes Varda

9/23/14
DOCTOR STRANGELOVE
by Stanley Kubrick

10/7/14
WARSAW BRIDGE
by Pere Portabella

10/14/14
EDVARD MUNCH
by Peter Watkins

10/28/14
A PROPHET
by Jacques Audiard

11/4/14
A SEPARATION
by Asghar Farhadi

11/11/14
WHEN PIGS FLY, with special guest SARA DRIVER
by Sara Driver

12/2/14
AMOUR
by Michael Haneke

____________________________________________________
SPRING 2014 FILMS
1/28/14
THE EARRINGS OF MADAME DE…
by Max Ophuls (France 1953)

Open Vault Screening:
"The most cherished work from French master Max Ophuls, The Earrings of Madame de. . . is a profoundly emotional, cinematographically adventurous tale of deceptive opulence and tragic romance. When an aristocratic woman known only as Madame de. . . (Danielle Darrieux) sells a pair of earrings given to her by her husband (Charles Boyer) in order to pay some debts, she sets off a chain reaction of financial and carnal consequences that can end only in despair. Ophuls' adaptation of Louise de Vilmorin's incisive fin de siècle novel employs to ravishing effect the elegant and precise camera work for which the director is so justly renowned." (Janus Films)
2/4/14
THE THREE ROOMS OF MELANCHOLIA
by Pirjo Honkasalo (Finland 2004)

"This award-winning, stunningly beautiful documentary reveals how the Chechen War has psychologically affected children in Russia and in Chechnya. Divided into three episodes or 'rooms,' the film is characterized by an elegantly paced, observational style, which uses little dialog, minimal voice-over commentary and a spare but evocative musical score." (Icarus)
"Magnificent! Evidence that when a director-cinematographer with a poet's vision photographs the material world, ordinary human faces and landscapes can leave impressions that transcend any words that might describe them. A requiem for the living as well as for the dead." (Stephen Holden, THE NEW YORK TIMES)
2/25/14
EN AVOIR (OU PAS)
by Laetitia Masson (France 1995)
(With LA VIS, a short film by Didier Flamand)

En Avoir (Ou Pas): "This was one of the best movies I've ever seen and I saw it at least ten years ago. It was extraordinary for its quiet realism and subtlety. It was truly uplifting in a sensitive, genuine, romantic way. The acting was wonderful. The movie had a startling simplicity, pure like a pool of crystal clear water. You have to be the sort of person that appreciates all the meaning contained in a tacit exchange, a fleeting look between characters, a mood conveyed by dawning emotions conveyed by lonesome characters. There was a feeling of rebirth in this movie, a gorgeous day- dreamy quality of uncertain-hopefulness for the future. In a way the movie concludes as more of a beginning than an ending, leaving one exhilarated." (IMDB)
3/4/14
ASHES OF TIME
by Wong Kar-wai (Hong Kong 1994)

"Master Hong Kong filmmaker Wong Kar-wai directed this lyrical, dream-like martial arts epic. A famously troubled shoot, the film took two years and 40 million dollars to produce (a shocking sum for a national cinema populated with low-budget quickies) and features a virtual who's-who of the Hong Kong film world. Conceived as a prequel to the popular martial arts novel The Eagle-Shooting Hero by Jin Yong, the movie is less a straightforward action thriller than a visually striking meditation on memory and love… This film is one of the most celebrated examples of 1990s Hong Kong cinema: it won multiple awards in its native Hong Kong, along with a Golden Osella for Best Cinematography at the 1994 Venice Film Festival." (Jonathan Crow, ROVI)
3/18/14
ALMAYER'S FOLLY
by Chantal Akerman (France, Belgium 2013)

"The director, Chantal Akerman, films the story as a flashback from a scene of violence that crystallizes the clash of cultures on which the drama runs, and which she captures in images of ecstatic power. Sending her camera gliding languidly into the noonday shadows of a rotting shack, darting dangerously through heavy marshland foliage, or jaunting past city lights from the back of an open-air bus, Akerman embraces the rapturous but desperate beauty of the countryside and the chill of the metropolis. …..  Akerman—eliding politics and flattening psychology—turns globalization's cultural dislocations and its romantic agonies into an archetypal experience." (Richard Brody, THE NEW YORKER)
3/25/14
HORS SATAN
by Bruno Dumon (France 2011)

"Angel or devil, good or evil, Christ or Satan: These are the mystical questions revolving around the nameless figure living in the coastal dunes outside of a small French town. Named one of the top ten films of the year by Cahiers du Cinema and an official selection of the Cannes Film Festival, Hors Satan is a provocative parable of identity, morality, and human relationships, defying notions of genre to become a mesmerizing and haunting original." (NEW YORKER FILMS)
"…evokes the Old Testament in its opaque simplicity, and Bruno Dumont's commanding, atheistic style—rooted in purposely empty wide-screen vistas and the inexpressive faces of his nonactors—doesn't offer many clues as to its meaning. As with L'Humanité (1999), Dumont wants to give epic form to the longing for spirituality in a despiritualized world. I find the movie mind-blowing, though it will likely alienate as many viewers as it impresses. In French with subtitles." (Ben Sachs, CHICAGO READER)
4/1/14
SINGIN' IN THE RAIN
by Stanley Donen (USA 1952)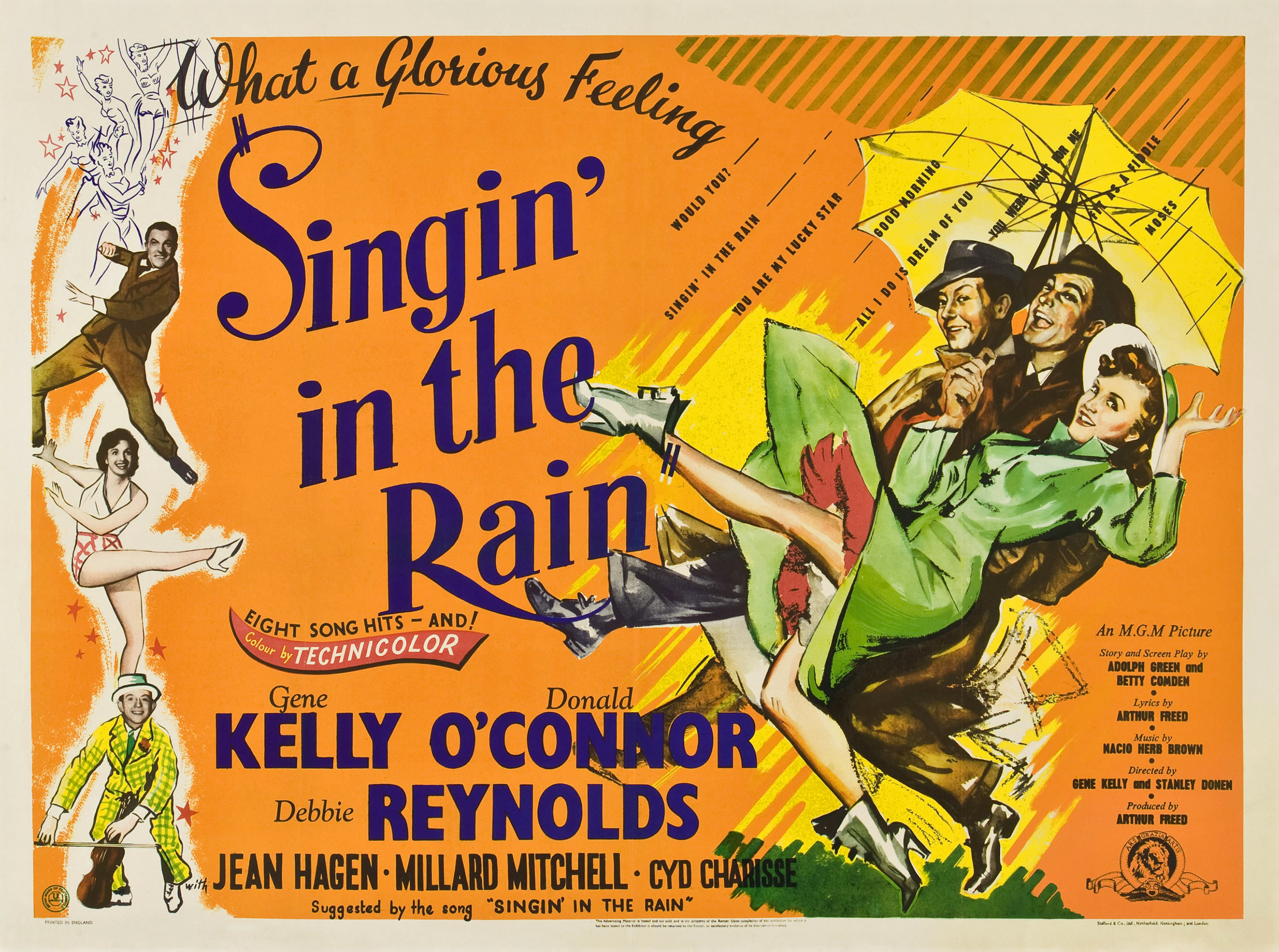 "Singin' in the Rain" has been voted one of the greatest films of all time in international critics' polls, and is routinely called the greatest of all the Hollywood musicals. I don't think there's any doubt about that. There are other contenders: "Top Hat," "Swing Time," "An American in Paris," "The Band Wagon," "Oklahoma," "West Side Story"–but"Singin' in the Rain" comes first because it is not only from Hollywood, it is about Hollywood. It is set at the moment in the late 1920s when the movies first started to talk, and many of its best gags involve technical details….
Unlike most of the movie musicals of recent years, "Singin' in the Rain" was not based on a Broadway stage production; it worked the other way around, with a London and Broadway musical in the 1980s being based on themovie. The movie was cobbled together fairly quickly in 1952 to capitalize on the success of "An American in Paris"–which won the Academy Award as the best picture which also starred Gene Kelly, and had the same director, Stanley Donen. The new movie had an original screenplay by Adolph Green and Betty Comden, and new songs by Nacio Herb Brown and Arthur Freed. But some of the songs, including the famous title tune, were anything but new…. The film was photographed in bold basic colors–the yellow raincoats are an emblem–and Donen and his cast have an energy level that's also bold, basic and playful. But is this really the greatest Hollywood musical ever made? In a word, yes." (Roger Ebert)
4/15/14
THE ASCENT
by Larisa Sheptiko (Russia 1977)

After studying in the workshop of Dovchenko and Romm, Shepitko graduated from VGIK in 1963. After an impressive diploma work (Heat) she directed Wings, a complex character study that eschewed cliche to depict the emotional gap that develops between a proud, professional woman and her estranged daughter. Though praised by critics, Wings received only a limited release by Soviet authorities. Her next project was a short film for the omnibus Beginning of an Unknown Era called "Homeland of Electricity". Produced by Mosfilm's ill-fated Experimental Studio, it was shelved by censors and wasn't released until after Shepitko's death. The high point of her career came with Ascent, which won the Golden Bear at Venice in 1977. After dying in a tragic accident in 1979, her final project, Farewell, was completed by her husband, Elem Klimov, using her script. (Seagull Films)
"An extraordinary film, in which any conventional, corporeal "war film" heroics are quickly discarded; what follows is a purely metaphysical exploration of cowardice, fear and guilt, as if the characters have died and are living in a purgatorial world, where the only possible salvation is that of their souls. Analogies to the tale of Christ and Judas abound, but its greatness is owed to peerless direction and acting." (Howard Or)
____________________________________________________
FALL 2013 FILMS
8/27/13
BLANCANIEVES
by Pablo Berger (Spain – 2012)

"All I can say is that there's a flash of pure inspiration, unfakeable and unmistakable, in this extraordinarily enjoyable film, a silent-movie melodrama version of Snow White and the Seven Dwarves set in southern Spain in 1910. It feels saturated with pleasure: it is extremely pleasurable to watch, and shows every sign of having been extremely pleasurable to make.The director Pablo Berger finds new life and heart in the old myth – certainly more than the recent Hollywood retreads – and daringly locates possibilities for both evil and romance in the ranks of the dwarves themselves. Carmen (Macarena García) is the beautiful daughter of Antonio Villalta (Daniel Giménez Cacho), a once dashingly handsome bullfighter, now a widower and invalid Berger takes inspiration from Hitchcock, with hints of Rebecca and Psycho, Buñuel, Browning and Almodóvar, and conjures a fascinatingly ambiguous ending: melancholy, eerie and erotic. A film to treasure."
– Peter Bradshaw, THE GUARDIAN
9/3/13
THE ANGELS' SHARE
by Ken Loach (Scotland – 2012)

Winner of the Jury Prize at the Cannes Film festival, legendary director Ken Loach, one of Britain's most distinguished and respected filmmakers, who makes tough, uncompromising films about a beleaguered working class with poetry and humor, and longtime writing partner Paul Laverty (The Wind that Shakes the Barley, Bread and Roses, My Name is Joe), present an engagingly off-kilter new film, The Angels' Share.
Robbie, a young ne'er do well (Paul Brannigan), a broke new father with a good heart is in serious trouble with the law. When he holds his newborn son for the first time, roguish Robbie is determined that the boy will have a better life, one with more opportunities than he has been offered in this insular, blue collar world. But first Robbie must sort out a variety of pressing problems – his girlfriend's family wants to do him harm and run him out of town being first and foremost among them. He is given a lucky break by a judge who shows mercy, granting him community service instead of jail. Here he meets Rhino, Albert and Mo, former petty criminals also down on their luck. (c) IFC Films
9/10/13
An Evening with Special Guest New York Times Film Critic Dave Kehr

The VCUarts CINEMATHEQUE is very pleased to welcome Mr. Dave Kehr, who joins us for an intimate conversation on film and film criticism. Mr. Kehr has for more than thirty years been one of the top film critics and Cinema historians in North America.  His writings have set and maintained a high mark for intelligent, thoughtful and balanced criticism in a field that too often has become an orifice for public relations and studio flacks poising as "critics." We are very fortunate that Mr. Kehr has agreed to venture south and share his wit, wisdom, and Cinematic candor with us tonight.
– Dr. Rob Tregenza
"Dave Kehr is not a flashy critic, but he does know movies better than you ever will, better than just about anyone who's toiled on the film crit beat. And, patiently, intently, with the same quiet craftsmanship and lack of ego found in the work of the American studio directors who he's so eloquently spoken for, he's been sharing what he knows with his public for nearly 40 years. Kehr began his career at free weekly The Chicago Reader, where he established an outpost for auteurist readings of current cinema, inspired by the writing of former Voice critic Andrew Sarris and the Young Turks of Cahiers du cinema, writers who polemicized for the persistence of directorial personality, and dignified Hollywood's undercover artistry while decoding it. Kehr has since moved through the Chicago Tribune and New York Daily News, to his present post at the New York Times, where he writes the invaluable DVD column."
– Nick Pinkerton, THE VILLAGE VOICE (Sept. 14, 2011)
9/17/13
THE SEVENTH CONTINENT
by Michael Haneke (Austria – 1989)

"Haneke adopted the idea of the protocol from his studies in philosophy – observation without interpretation. He chose to explain nothing in his film – simply show the couple with their perfect surroundings and their daily routines over a 3-year period and then leave us horrified and puzzled by their decision to obliterate their ennui through drastic means. Haneke decided to provide no answers, no explanations, no psychological exploration. We would have to do that unraveling ourselves. That decision to stay outside his characters and show only details of their lives would become one of Haneke's stylistic hallmarks. His would be demanding works that trust individuals to "get it" on their own, even (preferably) with varying conclusions.
With his strict rule to show consequences, not causes, Haneke felt that his conscience could be cleaner than if he pretended to know the reasons for his characters' actions. He states, "No novelist would want to write a novel today which claimed to analyze completely the reason why the story unfolds the way it does." Instead, he believes that a sort of explanation comes through the chosen structure, which simultaneously allows the writer/director to remain ambiguous. This is an intellectual approach which trusts the audience to interpret in their own individual ways – the approach of Antonioni, Bresson, Ozu, Bergman, et al."
– Chale Nafus, AUSTIN FILM SOCIETY
9/24/13
THE STRANGE CASE OF ANGELICA
by Manoel de Oliveira (Portugal – 2010)

"Angelica is every bit as concerned with the problems of cinema as Oliveira's more theatrically inclined works, but explores them through more specifically visual means. In fact, this may be Oliveira's most sustained meditation on the cinematic medium itself, apart from other aesthetic considerations. We began to see intimations of this direction in his previous feature, Eccentricities of a Blond Hair Girl (2009), which staged its talkiest, most static passages on a moving train, combining frank verbal delivery with the raw power of cinema's originary magic. But with Angelica, we find the old questions regarding spirit photography and the camera's alleged truck with the supernatural brought forward, onto the Mulvey/Lacan spectatorial axis. Isaac's desiring gaze is an animating one, one that haunts his dreams and turns his waking life into a kind of haunted paralysis, simply awaiting the next visitation. (Isaac keeps his poor landlady awake with his nightly moaning and yelling, implying that this para-Freudian subject is in the throes of nocturnal emissions.)  But Isaac is the "enunciator" of the images that haunt him, is he not? Oliveira shows us the photographer becoming enslaved by his own images, and the repeated sight of Isaac removing them from the stop-bath and hanging them on the drying line, one "frame" after another, alludes to photography "becoming" cinema, the "dead" image coming to life and overtaking its maker, becoming more real than the world from which it was extracted."
– Michael Sicinski, CINEMA SCOPE ONLINE
10/8/13
4 MONTHS, 3 WEEKS, 2 DAYS
by Cristian Mungiu (Romania – 2007)


Winner of the Palme d'Or and FIPRESCI Awards at the 2007 Cannes Film Festival.
"A ferocious, unsentimental, often brilliantly directed film about a young woman who helps a friend secure an abortion, the camera doesn't follow the action, it expresses consciousness itself. This consciousness — alert to the world and insistently alive — is embodied by a young university student who, one wintry day in the late 1980s, helps her roommate with an abortion in Ceausescu's Romania when such procedures were illegal, not uncommon and too often fatal. It's a pitiless, violent story that in its telling becomes a haunting and haunted intellectual and aesthetic achievement. "4 Months" deserves to be seen by the largest audience possible, partly because it offers a welcome alternative to the coy, trivializing attitude toward abortion now in vogue in American fiction films, but largely because it marks the emergence of an important new talent in the Romanian writer and director Cristian Mungiu."
– Manohla Dargis, THE NEW YORK TIMES
10/15/13
J.M. TYREE (FILM QUARTERLY CRITIC) presents: SALESMAN
by Albert and David Maysles & Charlotte Zwerin (USA – 1969)

We are very pleased that J.M. Tyree will join us tonight to discuss "direct cinema" and the work of Albert and David Maysles. J. M. Tyree is the author of the book "BFI Film Classics: Salesman" and the co-author (with Ben Walters) of the book "BFI Film Classics: The Big Lebowski" (from British Film Institute publishing). He contributed to Sight & Sound magazine's 2012 Greatest Films Poll, has spoken at London's National Film Theatre, and has taught at Stanford, Cleveland State University, and the University of Maryland. His writing has appeared in Film Quarterly (where he is a Writer-at-Large), Lapham's Quarterly, The Believer, KQED's The Writers' Block, The Silent History, and in Created in Darkness by Troubled Americans: Best of McSweeney's Humor Category (Knopf/Vintage) and the New England Review.
10/22/13
THE CHEKIST
by Alexandr Rogozhkin (Russia – 1992)

One of the most violent films ever made. This film is not for the faint of heart or those that are offended by nudity.
In 1917, at the birth of the Russian Revolution, the Bolshevik secret police (C.H.E.K.A.) unleashed a reign of bloody terror to wipe out any opposition to Communism. The CHEKIST is the first Russian feature to reveal the true face of the Cheka, as this powerful drama follows the daily rituals of a Cheka Officer as he and his men judge and execute their victims: Jews, Christians, workers, intellectuals, aristocrats… all who reject the new Soviet religion.
PIERS HANDLING, Director of the Toronto International Film Festival said in his program notes for the Toronto Festival screenings: "ROGOZHKIN EVENTUALLY PENETRATES INTO THE PYSCHOTIC MIND OF THE CHEKIST WITH A MOMENT OF SUBLIME INSIGHT, REMINISCENT OF BERTOLUCCI'S EQUALLY DISTURBING PORTRAIT OF THE FACIST KILLER IN "THE CONFORMIST." THE CHEKIST IS AN OVERWHELMING CRY IN THE FACE OF SUCH MADNESS."
10/29/13
AMARCORD
by Federico Fellini (Italy – 1973)


This Italian comedy-drama film is a semi-autobiographical coming-of-age tale about Titta, an adolescent boy growing up among an eccentric cast of characters in the village of Borgo San Giuliano  in 1930s Fascist Italy.  The film won the Oscar for Best Foreign Language Film, and was nominated for two Academy Awards: Best Director and Best Writing, Original Screenplay. "Amarcord" is Fellini's final great film.
"If ever there was a movie made entirely out of nostalgia and joy, by a filmmaker at the heedless height of his powers, that movie is Federico Fellini's "Amarcord." The title means "I remember" in the dialect of Rimini, the seaside town of his youth, but these are memories of memories, transformed by affection and fantasy and much improved in the telling. Here he gathers the legends of his youth, where all of the characters are at once larger and smaller than life — flamboyant players on their own stages. "
– Roger Ebert
11/12/13
KURONEKO (Black Cat)
by Kaneto Shindo (Japan – 1968)


"As it slides between realism and extreme artifice, using cinematic and theatrical devices, "Kuroneko" becomes increasingly, pleasurably difficult to predict. It's alternately abstract and down to earth, recognizable and strange, and consistently surprising. Gintoki's relationship with the two spirits brings its own twists to the film, as do the continually shifting tones and moods. Using spare dialogue (the soundtrack is likely monaural), Mr. Shindo creates a supernatural story that combines folkloric elements with social commentary and a touchingly sad love story. In one scene a spirit somersaults through the pitch-dark night, in another peasants rob the body of a dead samurai, a reminder that while Mr. Shindo certainly took evident delight in visiting with the dead, his thoughts were never far from the living.
– Manohla Dargis, THE NEW YORK TIMES
____________________________________________________
SPRING 2013 FILMS
1/29/2013
24 CITY
by Zhang Ke Jia
Eight characters are affected when the state owned factory 420 shuts down to give way to give way to a complex of luxury apartments called 24 CITY.
"An upscale leap forward that leaves many behind." – The New York Times
2/5/2013
THE FORGIVENESS OF BLOOD 
by Joshua Marston
Rudia and her brother Nik are forced to face adversities beyond their age when their family is shaken up by murder.
Won Silver Bear for Best Script at the Berlin International Film Festival.
2/26/2013
PINA
by Wim Wenders
Dance, dance, or we are lost. Choreographer Pina Bausch's final words inspired this Wim Wenders documentary on the art and influence of dance.
"The cumulative effect is exhilarating." – The New York Times
Won Best Documentary at the European Film Awards.
3/12/2013
FISH TANK
by Andrea Arnold
Fifteen year old Mia's life is turned on its head when her Mum brings home a new boyfriend.
"One of the absolute best coming-of-age stories I've seen." – Cinematical
Won Jury Prize, Nominated Palme d'Or Cannes Film Festival.
3/19/2013
BEASTS OF THE SOUTHERN WILD
by Benh Zeitlin
Six year-old Hushpuppy must desperately repair the structure of her world in order to save her ailing father and sinking home in order to survive an unstoppable catastrophe of epic proportions.
"One of the most striking narrative films ever to debut at Sundance." – The Hollywood Reporter
3/26/2013
35 SHOTS OF RUM 
by Claire Denis 
The relationship between a father and daughter is complicated by the arrival of a handsome young man.
"A quiet and lovely film." – The New York Times
Won Special Jury Award Gijon International Film Festival.
4/2/2013
ALEXANDRA
by Alexander Sokurov 
An elderly woman takes a train trip to visit her grandson at his army camp inside Chechnya
" A film of startling originality and beauty, a beautiful, eerie work of art." – The New York Times
Official Selection Cannes Film Festival.
4/16/2013
JLG/JLG (DOUBLE FEATURE)
by Jean-Luc Godard
Director Jean-Luc Godard reflects in this movie about his place in film history, the interaction of film industry and film as art, as well as the act of creating art.
4/16/2013
THE COW (DOUBLE FEATURE)
by Karel Kachyna
Adam sells his only cow to pay for his mother's medicine. Meanwhile, a young girl finds a safe place in their home after fleeing sexual abuse.
5/7/2013
WINGS OF DESIRE
by Wim Wenders
An angel tries overseeing human activity and wishes to become human when he falls in love with a mortal.
" A sublimely beautiful, deeply romantic film for our times." – Variety
 Won Best Director Cannes Film Festival, Won Best German Film 1987.
5/14/2013
TURIN HORSE
by Béla Tarr & Ágnes Hranitzky

A rural farmer is forced to confront the mortality of his faithful horse.
"An auterist triumph." – The New York Times
Won Grand Prix Berlin Film Festival, Official Selection New York Film Festival.
_____________________________________________________________________
FALL 2012 FILMS
8/28/2012
THE KID WITH A BIKE
by The Dardenne Brothers

Review By MANOHLA DARGIS, "The New York Times"
Published: March 15, 2012
"The fast-moving boy in "The Kid With a Bike," a quietly rapturous film about love and redemption from Jean-Pierre and Luc Dardenne, races along with frightening intensity, his little legs pedaling hard, his eyes fixed on a heart-heavy destination. What the 11-year-old Cyril (the newcomer Thomas Doret, touchingly serious) wants — what every muscle in his small, tensed body strains toward — is the father who left him at a children's home, abandoning his only son to the kindness of strangers with as seemingly little regard and feeling as someone else might toss a pair of old shoes.
"The use of the Beethoven, the music soaring, as well as what appears to be a kind of resurrection, makes it easy to read "The Kid With a Bike" as a religious allegory, though that would be reductive. One thing that makes the Dardennes' work so vibrant, at once new and seemingly timeless, is that they ask the most urgent questions we can ask of ourselves — including, what is it to be human — and in nondoctrinaire, nonproscriptive terms. This isn't to deny the religious influence, which runs as deep in their films as it does in the outside world, but to argue that they have recast that influence in philosophical and aesthetic terms. "Rosetta," "The Son," "The Child" and "The Kid With a Bike" are, in the most expansive sense, good works."
9/4/2012
THE SILENCE BEFORE BACH
by Pere Portabella

Review by MANOHLA DARGIS, "The New York Times"
Published: January 30, 2008
"The jingling piano, the humming traffic and the prancing horse tap out separate if connecting songs in the beguiling nonnarrative film "The Silence Before Bach," from the septuagenarian Spanish auteur Pere Portabella. You could say that these three make beautiful music together, though this observation doesn't capture the contrapuntal complexity of the film, which unfolds note against note, scene against scene. According to the critic Jonathan Rosenbaum, Mr. Portabella has not allowed any of his work to be transferred to VHS or DVD, which is too bad, because, to judge from "The Silence Before Bach," he merits a wider audience.
"And there is an audience for this work, despite the hurdles presented by foreign-language film distribution. "The Silence Before Bach" may be nonnarrative, but its pleasures are obvious, even when its meaning proves rather less so. Through a series of seemingly disconnected set pieces — some transpiring in present-day Europe, some in the past — Mr. Portabella creates a film that doesn't address Bach in the usual biopic terms but instead as a jumping-off point for different visual and aural ideas and associations, including the cross-cultural reality of European identity. Following Bach's influence, Mr. Portabella and his film bounce all over the map, crisscrossing the continent from Spain to Germany by way of various travelers, their harmonies and rhythms.
"The Silence Before Bach" opens with a camera prowling through a series of empty white rooms that look very much like a gallery space primed (and left waiting) for an exhibition. Mr. Portabella does not disappoint and starts the show soon enough with the appearance of a magically self-propelled player piano. This ambulatory instrument— its keys and gears furiously churning out the "Goldberg" Variations — starts to move closer and closer toward the camera, which abruptly reverses its course and begins moving backward like a retreating enemy. It's a strangely comical and mysterious image (attack of the player piano!) that suggests that this music (or perhaps its lovers) does not appreciate being shut away in a sterile, depopulated environment, like that of a would-be gallery.
9/11/2012
ELENA
by Andrey Zvyagintsev

Winner of Cannes' Un Certain Regard Special Jury Prize, Elena is a gripping, modern twist on the classic noir thriller. Sixty-ish spouses Vladimir and Elena uneasily share his palatial Moscow apartment-he's a still-virile, wealthy businessman; she's his dowdy former nurse who has clearly "married up." Estranged from his own wild-child daughter, Vladimir openly despises his wife's freeloading son and family. But when a sudden illness and an unexpected reunion threaten the dutiful housewife's potential inheritance, she must hatch a desperate plan…. Masterfully crafted by award-winning Russian filmmaker Andrey Zvyagintsev (Golden Globe nominee The Return) and featuring evocative, Hitchcockian music by Philip Glass, Elena is a subtly stylish exploration of crime, punishment and human nature. — (C) Zeitgeist
9/18/2012
ONCE UPON A TIME IN ANATOLIA
by Nuri Bilge Ceylan

Once Upon a Time in Anatolia is a 2011 Turkish drama film, co-written and directed by Nuri Bilge Ceylan. The film, which went on nationwide general release across Turkey on September 23, 2011, premiered at the 2011 Cannes Film Festival where it was a co-winner of the Grand Prix.
Once Upon a Time in Anatolia is about a murder investigation in "Anatolia," the historical name of a region, and now a generic term for Turkey's countryside. The Turkish word for "motherland," it occupies in the popular imagination the legendary status that the West holds for Americans.  The moment we see their faces, we feel we know their stories. But these men also spring from Anatolian soil, from a civilization far older than that of America's fabled West. While their preoccupations provide an engaging glimpse of Turkish culture, for Ceylan they also represent the absence of mind that prevents these men from living fulfilling.
Although Ceylan is not inspired by religion, as Robert Bresson was, a filmmaker to whom the Turkish director can easily be compared, he is similarly engaged in a quest for meaning. His films depict the ways in which men compete for hegemony, as the men do in Once Upon a Time in Anatolia, all the time feeling adrift, set apart from the natural patterns of life, until women rescue them.
Ceylan, like Bresson, communicates as much through sound as he does through image. In Once Upon a Time in Anatolia, for instance, the sound of barking is a reminder of the victim whose dog we see in the opening scene.
9/25/2012
SILENT SOULS
by Aleksei Fedorchenko

Review by JEANNETTE CATSOULIS, "New York Times"
Published: September 15th, 2011
"Sex and death are inextricably entwined in "Silent Souls," a melancholy poem to love, loss and the tug of tradition.
"Narrated by Aist (Igor Sergeyev), a middle-aged mill worker descended from an ancient Russian tribe known as the Merja, this third feature from Aleksei Fedorchenko takes you on a dreamy journey to a half-remembered land. Asked to accompany his best friend, Miron (Yuri Tsurilo), in the transport and watery burial of Miron's recently deceased wife, Aist embarks on a road trip rich in significance and sentiment. While the bereaved husband, in accordance with Merja custom, recounts intimate details of his married life, Aist recalls his long-gone parents and the sadness of a stillborn sibling. Ghosts — of people, places and rituals — accumulate and eventually dominate his narration, the fleshy bodies of women past and present filling him with tenderness and longing. Colors swell from muted to strident and back again as Mikhail Krichman's moodily erotic, perfectly lighted images — a bride's pubic hair decorated with colored thread; Miron bathing his wife in vodka.
"Populated by memories and dappled with desire, "Silent Souls" is part folk tale, part lesson in letting go. In its quiet acceptance of the passing of time, this unusual film reminds us that to die is not always the same as to disappear."
10/16/2012
PUNISHMENT PARK
by Peter Watkins

This pseudo-documentary was directed by Peter Watkins (The War Game, Culloden). After a poor critical response and with its tough, political subject matter ensuring distribution near impossible, Punishment Park received a limited release in 1971 before all but disappearing.
Set in a near future dystopian US in the wake of Kent State and with the backdrop of Nixon and the escalating war in Vietnam; hippies, left-wing radicals, draft dodgers and all those considered to be an "internal threat" are arrested and put in front of an impossible tribunal. The film follows and intercuts between two groups of detainees who are being filmed by a BBC camera crew (narrated by Watkins himself). The first group, 637, are shown at the start of their 3 days in Punishment Park, whilst group 638 begin their civilian court hearings. As tensions rise in the tribunals and the reality of their fate dawns on both the detainees and the documentary crew filming them, Punishment Park quickly escalates to its shockingly inevitable and violent conclusion.
10/23/2012
TROPICAL MALADY
By MANOHLA DARGIS, "The New York Times"
Published: October 2, 2004
"Love is the drug, a game for two and, in the otherworldly Thai film "Tropical Malady," unabashedly strange. A fractured love story about the mystery and impossibility of desire, the film was directed by Apichatpong Weerasethakul, whose earlier features include "Blissfully Yours." Perched between two worlds, two consciousnesses and two radically different storytelling traditions, this new feature shows a young filmmaker pushing at the limits of cinematic narrative with grace and a certain amount of puckish willfulness.
"When "Tropical Malady" had its premiere at the 2004 Cannes Film Festival, the critical consensus was that the movie was difficult to the point of inscrutability. But the story is, notwithstanding a surprising rupture midway through, nothing if not simple. Most of the first half of the film involves the tentative blossoming of Tong and Keng's romance.
"Mr. Weerasethakul, who lives in Thailand and studied film and painting at the School of the Art Institute of Chicago, has an appreciation of the more humorous dislocations of globalization, like an aerobics class in the middle of a dusty town. "Tropical Malady" is filled with such minor disruptions (including a woman who talks about ghosts in one breath and "Who Wants to Be a Millionaire" in the next), but the biggest disruption takes place when the storytelling shifts from realism to allegory."
11/20/2012
THE ARC
Review by DAVE KEHR, "The Chicago Tribune"
Published: October, 1991
"The highlight of Monday`s program at the Chicago International Film Festival is 'The Arc,' screening at 9:30 p.m. at the Music Box Theater, 3733 N. Southport Ave. Directed by Rob Tregenza, who is perhaps the most formally innovative of the current generation of American independent filmmakers, the film uses gradually increasing shot lengths, from a few frames to takes of several minutes, to relate the mythic tale of an arc welder (Jason Adams) on a spiritual quest."
ARC had its world premiere at the Berlin International film Festival, and then screened at the Toronto, Vancouver, and Chicago International Film Festivals.
Review By PIERS HANDLING, Director of the Toronto International Film Festival
"Rob Tregenza's first feature,Talking To Strangers (shown at the 1988 Festival) was a bold aesthetic and stylistic departure consisting of only nine shots, each lasting approximately ten minutes. His new film (making its North American premiere at the festival) takes up where his first left off, although The Arc has been conceived in a somewhat different fashion.
The structuring arc of the film sees Tregenza move from sequences of montage to those of increasing length as the film progresses, which mirrors the internal state of his protagonist as well as the landscape in which he finds himself. The Arc above all is a road movie, and a journey, a modern day odyssey, not dissimilar in mood and tone to Antonioni's existential trips through the disembodied sensibilities of his characters.
The film begins in Baltimore where John Butz is a welder, but when he refuses to take part in a strike, his marriage falls apart. He hits the road, finds work in scap-yard and then drifts on through Georgia, Oklahoma, Texas and Montana. Along the way John runs into some unusual people, including a runaway girl, and a sculptor, each of whom is struggling to find a path in life. Every encounter teaches John something new, forcing him to confront himself in a different way. As the city is replaced by the empty desert spaces, as time slows down, and as a spiritual dimension enters his life, John finds himself becoming increasingly detached from the world but closer to the magic of the landscape that Tregenza's camera captures with powerful eloquence. The Arc confirms the promise of Tregenza's audacious first film and marks him as a singular talent determined to follow his own very challenging path."
11/27/2012
Oslo, August 31
by Joachim Trier


Review by A.O. SCOTT, "The New York Times"
"Joachim Trier's "Oslo, August 31," is a perfectly linear story that bristles with suspense and ambiguity. The title and the structure make literal the recovery movement mantra "one day at a time," and also show just how long and how full of danger a single 24-hour span can be. Stories of addiction frequently pass through a metaphorical crossroads — redemption down one path, catastrophe down the other — but Anders, Mr. Trier's protagonist, faces such a choice at every waking moment. You are never sure what he will do next, and it is clear that he is not, either. Nor does he necessarily know why he makes the choices he does, or what they mean.
"Anders Danielsen Lie in "Oslo, August 31st," loosely based on "Le Feu Follet," a 1931 novel by the French writer Pierre Drieu La Rochelle (adapted for film by Louis Malle in 1963), is neither sensationalistic nor punishingly bleak. There is sometimes a generic quality to movies about addiction, perhaps because of the leveling power of the disease, which can afflict anyone, regardless of background. Anders is smart — a once-promising intellectual who has published articles in highbrow journals — and was raised, it seems, by kind and loving parents. He has no good explanation for the pain he has inflicted on himself and others, which may make it harder.
"But Mr. Trier and Mr. Lie — a quiet, recessive but nonetheless magnetically self-assured screen presence — emphasize Anders's individuality above all. "Oslo, August 31st" has the satisfying gravity of specific experience, and also, true to its title, a prickly sense of place. Oslo is Anders's home, the scene of his happiest and most dreadful experiences, and the film, chilly as it is, is warmed by a love for the city that the filmmaker and the character clearly share."
12/4/2012
REVANCHE
by Götz Spiellmann

At once a gripping thriller and a tragic drama of nearly Greek proportions, Revanche is the stunning, Oscar–nominated, international breakthrough film from Austrian filmmaker Götz Spielmann. In a ragged section of Vienna, hardened ex-con Alex (the mesmerizing Johannes Krisch) works as an assistant in a brothel, where he falls for Ukrainian hooker Tamara (Irina Potapenko). Their desperate plans for escape unexpectedly intersect with the lives of a rural cop (Andreas Lust) and his seemingly content wife (Ursula Strauss). With meticulous, elegant direction, Spielmann creates a tense, existential, and surprising portrait of vengeance and redemption, and a journey into the darkest forest of human nature, in which violence and beauty exist side by side.
"Darkly compelling … Its carefully plotted, convincing scenario will leave you with a lot on your mind."
— Kenneth Turan, The Los Angeles Times
"Deserves comparison with grade-A Hitchcock."
— John Hartl, The Seattle Times
"Directed with terrific control and economy of means … Revanche gets its hooks into you early and leaves them there."
— Scott Foundas, The Village Voice
"Recalls a sort of filmmaking out of vogue since Bresson and Kieslowski – a cinema of moral consequence."
— Brian Miller, The Seattle Weekly
 _____________________________________________________________________
Spring 2012 FILMS
Police, Adjective (2009)
by Corneliu Porumboiu – January 31, 2012 – 7pm
Area:  World Cinema/Romania
Cristi (Dragos Bucur) is a young undercover cop who undergoes a crisis of conscience when he is pressured to arrest a teenager who offers hash to classmates. Not wanting to ruin the life of a young man he considers merely irresponsible, Cristi must either allow the arrest to be a burden on his conscience, or face censure by his self-serious superior (Vlad Ivanov of 4 MONTHS, 3 WEEKS AND 2 DAYS), for whom the word "conscience" has an
entirely different meaning.
Porumboiu approaches his story with the exacting patience of a master ironist, culminating in one of the most unexpected comedic payoffs in years, – an extraordinary dissection of language that affirms his reputation as one of the most exciting new talents in European cinema.
The Princess of Montpensier (2010)
by Bertrand Travernier – February 21, 2012 – 7pm
Area: The Masters
In THE PRINCESS OF MONTPENSIER, acclaimed filmmaker Bertrand Tavernier ('ROUND MIDNIGHT) directs a spectacular cast in a riveting, lush romantic drama set in the high courts of 16th Century France.
Against the backdrop of the savage Catholic-Protestant wars, Marie de Mezieres, a beautiful young aristocrat, finds herself married to a young prince she does not love, haunted by a rakish suitor from her childhood, and advised by an aging nobleman Lambert Wilson, harboring his own forbidden desire for her. The Princess of Montpensier must struggle passionately to stay alive in the intrigue of this corrupt political and romantic web of duty, passion, religion, and war.
Still Walking (2008)
by Kore-eda Hirokazu – February 28, 2012 – 7pm
Area: World Cinema/ Japan
Beloved director Kore-Eda Hirokazu (AFTER LIFE, NOBODY KNOWS) returns to the forefront of world cinema with STILL WALKING – an exquisitely detailed family drama that shines with warmth and understanding. The film was one of the most critically acclaimed works at the Toronto, Tribeca, and San Francisco International Film Festivals. Lushly photographed, and with an expert script that incorporates elements of director Kore-Eda's personal experience, STILL WALKING is a quiet pleasure unlike anything else you will see this year.
Fifteen years ago, Junpei, the youngest son of the Yokoyama family died while rescuing a boy from drowning. On the anniversary of his death, the remaining siblings visit the quaint home of their parents with their families in tow. Over the course of a beautiful day, new relatives become acquainted telling stories and squabbling over sizzling tempura and an elegant graveside ritual is performed for Junpei.
Alamar
by Pedro Gonzalez-Rubio – March 6, 2012 – 7pm
Area: World Cinema / Mexico
Jorge and Roberta have been separated for several years.  They simply come from opposite worlds: he likes an uncomplicated life in the jungle, while she prefers a more urban existence.  He is Mexican and she is Italian, and she has decided to return to Rome with their five-year-old son, Natan. Before they leave, Jorge wishes to take young Natan on a trip, hoping to teach him about his Mayan origins in Mexico.  At first, the boy is physically and emotionally uncomfortable with the whole affair and gets seasick on the boat taking them to their destination.  But as father and son spend more time together, Natan begins a learning experience that will remain with with him forever.
Pedro Gonzalez-Rubio is a Mexican filmmaker born in Brussels.  His initiation to visual arts came at the age of sixteen while living in New Delhi.  He studied media in Mexico before attending the London Film School.  His directorial debut, Toro Negro (2005, co-director), received several awards including the Horizontes Award for best Latin American film from the San Sebastian Film Festival.  Alamar is his feature film debut, which nonetheless remains true to real life.
M. Hulot's Holiday (1953)
by Jacques Tati – March 20, 2012 – 7pm
Area:   The Masters
While on holiday at a seaside resort, Monsieur Hulot – Jacques Tati's endearing, pipe-smoking clown – finds his presence provoking one catastrophe after another. A wildly funny satire of vacationers determined to enjoy themselves, the first entry in the Hulot series includes a series of brilliantly choreographed sight gags about boats, dogs, tennis, and other hazards of leisure.
Around A Small Mountain (2011)
by Jaques Rivette – March 27, 2012 – 7pm
Area:  The Masters
From legendary director Jacques Rivette ("Va Savoir," "The Duchess of Langeais") comes a tale of lust love, chance encounters and the transformative power of art.
On a winding mountain road, Vittorio stops to help Kate, whose car has broken down. Later in town, Vittorio learns that Kate has returned to join her family's traveling circus after leaving under mysterious conditions many years ago. Intrigued by her story, Vittorio stays for the show, and the next one, and little by little, is ingratiated into the circus and the lives of its performers-all the while trying to discover the secret that led to Kate's sudden departure.
Ne Change Rien
by Pedro Costa – April 3, 2012 – 7pm
Area:  World Cinema / Portugal
Through the dozen or so high-contrast black-and-white shots that it consists of, Pedro Costa's excellent new documentary chronicles actress-turned-chanteuse Jeanne Balibar's preparations for a set of concerts and recording tracks for her two albums amongst other hypnotic musical diversions.  Accompanied often by Rudolphe Burger, whose reverberating chords and picking echo around her lush melodies, Balibar is at once her own performer and Costa's muse and Ne Change Rien is a much startling study of musical composition as it is a stoic, sublime ode to cinema love.
You All Are Captains
by Oliver Laxe – April 17, 2012 – 7pm
Area:  World Cinema / Morrocco
A European director sets out to make a film with children from a social center in Tangiers. Because of his methods, his relationships with the children during shooting degenerate and transform the evolution of project.
Helas Pour Moi (1994)
by Jean-Luc Godard – May 8, 2012 – 7pm
Area: The Masters
Journalist Abraham Klimt investigates a case of divine possession. In 1989 God enters the body of filmmaker Simon Donnadieu. When Simon returns home, his wife Rachel realizes something is amiss but sticks by her newly divine husband.
The Mill And The Cross (2011)
by Lech Majewski – May 15, 2012 – 7pm
Area: Art House / World Cinema
Pieter Bruegel's epic masterpiece The Way To Calvary depicts the story of Christ's Passion set in Flanders under brutal Spanish occupation in the year 1564, the very year Bruegel created his painting. From among the more than five hundred figures that fill Bruegel's remarkable canvas, THE MILL & THE CROSS focuses on a dozen characters whose life stories unfold and intertwine in a panoramic landscapre populated by villagers and red-caped horsemen. Among them are Bruegel himself, his friend and art collector Nicholas Jonghelinck, and the Virgin Mary.
 _____________________________________________________________________
Fall 2011 FILMS
THE ISLAND (OSTROV) by Pavel Lungin – Sept. 6
2011 Area:  World Cinema/Russia
In the frozen watery wastelands of Northern Russia, in a small Russian Orthodox monastery, exists a peculiar man whose bizarre conduct confuses his fellow monks and encourages others who visit the remote island, to believe he has the power to heal, exorcise demons and foretell the future.  With shades of Tarkovsky, Pavel Lungin's The Island (2006) was winner of five Russian Academy Awards. Venice, London, Toronto, and Sundance official selections. Presented in "scope" (1 to 2.35 wide screen) in Dolby Stereo Surround this a visual feast for the eyes and ears.

THE WINDOW (La Ventana) by Carlos Sorín – Sept. 13
Area: World Cinema/Argentina
It is a significant day for 80 year old Antonio. After an absence of many years, his estranged son is coming to visit. All must be perfect. But before, Antonio must
wait. Bedridden, he looks out his window at the Patagonian landscape and sees light and life, the past and the present, while sensing the future. In The Window
(2009), Argentinean filmmaker Carlos Sorin trains his camera on the small stories written by life, on the humanity behind human beings. Critic's Pick of the Week by the New York Times.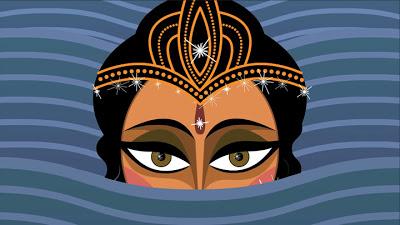 SITA SINGS THE BLUES by Nina Paley – Sept. 20
Area: Animation
Nina Paley's, Sita Sings the Blues (2009), is an animated feature film written, directed, produced and animated by American artist Nina Paley primarily using
2D computer graphics and Flash Animation. The film is based on the Hindu epic "The Ramayana". Sita is a goddess separated from her beloved Lord and
husband Rama. Nina Paley is an animator whose husband moves to India, then dumps her by email. Three hilarious shadow puppets narrate both ancient
tragedy and modern comedy in this beautifully animated interpretation of the Ramayana. The New York Times praised the film's ingenuity, commenting
that: "A Pixar or DreamWorks extravaganza typically concludes with a phone book's worth of technical credits. Ms. Paley did everything in "Sita" — an amazingly eclectic, 82-minute tour de force — by herself."

WHITE MATERIAL by Claire Denis – Sept. 27
Area: The Masters
In Claire Denis' White Material (2010), A white French family outlawed in its home and attempting to save its coffee plantation connects with a black hero also embroiled in the tumult. All try to survive as their world rapidly crumbles around them. The French auteur's work is intelligent, nuanced, and frankly, often
slow. Denis approaches her films like a sculptor, beginning with the giant block of matter that is a life (or lives) and whittling the irrelevant away until she finds a character's essence.
Her debut feature film Chocolat (1988), a semi-autobiographical meditation on colonialism in Africa, won her critical acclaim and this film touches again on similar themes. Beau travail (1999) further established her reputation as one of the top filmmakers in the world of art cinema.

NOSTALGIA FOR THE LIGHT by Patricio Guzmán – Oct. 18
Area:   The Masters/Documentary
Director Patricio Guzmán's Nostalgia for the Light (2010), famed for his political documentaries (THE BATTLE OF CHILE, THE PINOCHET CASE),
travels 10,000 feet above sea level to the driest place on earth, the Atacama Desert, where atop the mountains astronomers from all over the world gather to
observe the stars. The sky is so translucent that it allows them to see right to the boundaries of the universe. As astronomers peer deep into the cosmos in search for answers concerning the origins of life, nearby, a group of women sift through the sand searching for body parts of loved ones, dumped unceremoniously by Pinochet's regime.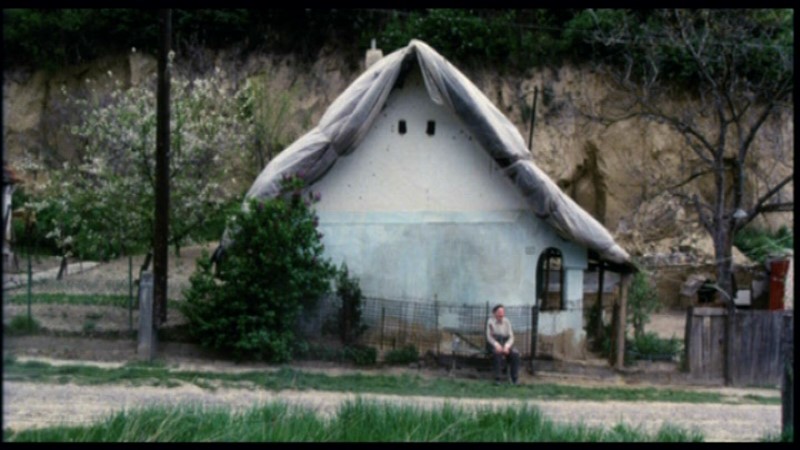 HUKKLE (Hiccup) by Gyorgy Palfi – Oct. 25
Area:  Open Vault/Art Cinema
Hukkle is the first feature film by Hungarian director Gyorgy Palfi. Using almost no dialogue, the film follows a number of residents (both human and animal) of a small rural community in Hungary – an old man with hiccups, a shepherdess and her sheep, an old woman who may or may not be up to no good, some folk-singers at a wedding, etc. While most of the film is a series of vignettes, there is a sinister and often barely perceptible subplot involving murder. Ann Hornaday of the Washington Post writes : "Hypnotic, elliptical, often rapturously beautiful, the film is a testament to the much-maligned concept of art cinema, one that depends for its thrills on film's essentials as a visual and sonic medium."

CERTIFIED COPY by Abbas Kiarostami – Nov. 8th
Area:  The Masters/World Cinema
Iranian filmmaker Abbas Kiarostami is a master of understatement and nuance. His films sneak up on you slowly, accumulating detail after telling detail until, by the closing scenes, you realize with astonishment just how much the movie you've just seen has encompassed. Certified Copy (2010) is set in Tuscany, and focuses on a British writer and a French antiques dealer, whose relationship undergoes an odd transformation over the course of a day. The film premiered at the 2010 Cannes Film Festival, where Juliette Binoche won the Best Actress Award for her performance. Critics have been mostly positive and have compared the film to several others, notably Roberto Rosselini's 1954 film Journey to Italy.

LE QUATTRO VOLTE by Michelangelo Frammartino – Nov. 22
Area: World Cinema
Michelangelo Frammartino's Le Quattro Volte (2010), tells the story of an old shepherd living his last days in a quiet medieval village perched high on the
hills of Calabria, at the southernmost tip of Italy. He herds goats under skies that most villagers have deserted long ago. Inspired by Pythagoras's belief in four-fold transmigration — by which the soul is passed from human to animal to vegetable to mineral — Michelangelo Frammartino's wondrous film traces
the cycle of life through the daily rituals of life in the southern Italian region of Calabria. "Reinvents the very act of perception. Its view of nature is among the
most profound, expansive and unsettling I have ever encountered," A.O. Scott, The New York Times.

MOTHER AND SON by Aleksandr Sokurov – Nov. 29
Area: Open Vault/ Art Cinema
Aleksandr Sokurov's Mother and Son (1997,) is a slow and poignant story of love and patience told via a dying mother nursed by her devoted son. The simple
narrative is a thread woven among the deeply spiritual images of the countryside and cottage. The cinematography of the film featured images distorted by filming through painted glass panes, mirrors, and special lenses, together with sounds of "whispering wind, crashing waves, and sea-gull cries", creating an elegiac mood. The painterly cinematography has been compared to the work of Peter Greenaway and Derek Jarman, and the distortions to Stan Brakhage.

A SCREAMING MAN by Mahamat-Saleh Haroun – Dec. 6
Area: World Cinema
Mahamat-Saleh Haroun's A Screaming Man (2010,) tells of Adam, a sixty something, former swimming champion, who is now a pool attendant at the
N'Djamena hotel. When the hotel gets taken over by new Chinese owners, he is forced to give up his job to his son Abdel. Terribly resentful, he feels socially
humiliated. The country is in the throes of a civil war. Rebel forces are attacking the government. The film received the Cannes Film Festival's Jury Prize and
won the Silver Hugo for best screenplay at the 46th Chicago International Film Festival.
 _____________________________________________________________________

We have a brand new state of the art 35mm projector with a full set of new lenses that can project all the major aspect ratios from 1:33, 1:66, 1:85 and Scope.  We also have an HD 1080p projector,  a new theatrical screen and a Dolby Surround Digital Audio System.
The VCUarts Cinematheque has also worked with the VCU French Film Festival, the James River Film Festival, and the Virginia Production Alliance in programing and presenting world and experimental cinema.
The VCUarts Cinematheque also presents Cine-Club screenings every Wednesday evening at 8pm in the Cinema Studio in the Pollak Building.